Bottineau (Northwest) Line and Osseo Spur (fantasy transit)
This fantasy line is based mostly on the Northwest LRT Line proposal from the late 1980s LRT system studies. As an alternative to the LRT line, studies in the early 2000s recommended a BRT line along the corridor, and the county secured funding to begin construction. Then in 2007, there were calls by some local officials to forgo the Bottineau BRT line and concentrate on constructing an LRT line instead. A new study of the corridor began in 2008 and is ongoing as of October 2009, with the frontrunning scenario appearing to be an LRT line similar to the 1980s Northwest LRT plan, but extending to Maple Grove. This fantasy line is based largely on this likely 2009 scenario.
This line starts underground at the Downtown Multimodal station, first looping around the north side of the Hennepin County incinerator, then continuing west along Olson Memorial Highway, returning to grade in the median of Olson Hwy near Humboldt Ave N. The line follows the median of Olson Hwy westward to near Thomas Ave N, where it dips underneath the westbound MN 55 lanes and then curves northward into the BNSF RR spur right-of-way.
The line then follows the BNSF spur all the way to Osseo, mostly following the existing rail grade but passing over or under several roads, highways, and a Canadian Pacific rail line. These grade separations include Plymouth Ave, Wirth Pkwy, Golden Valley Rd, 36th Ave N, MN 100, the CP rail line, Bass Lake Rd, I-94/694, and 77th Ave N.
At the 77th Ave N overpass/station, the line turns west, coming back to grade in the median of 77th Ave N at Xylon Ave N. It follows the median of 77th Ave N to just west of Kilmer Dr/Jefferson Hwy, where it shifts to the north side of 77th Ave N. It continues to follow 77th Ave N west, bridging over Hemlock Ln, before terminating at the Maple Grove Town Center at Main St.
Stations would be provided at the following:
Van White North (at Emerson Ave)
Penn Ave
Golden Valley Rd (south side)
Downtown Robbinsdale (south side of 42nd Ave N, with connection to Robbinsdale streetcar)
Bass Lake Rd
63rd Ave N (north side)
W Broadway (north side)
77th Ave N (south side)
Tech College (at Hennepin County Technical College, west side of Northland Dr)
Zachary Ln (east side)
Maple Grove Town Center (west side of Main St)
Osseo Spur
Another of the favorable scenarios from the Bottineau Transitway study extends the line north along West Broadway to the new Target North campus in Brooklyn Park. As part of my original fantasy Bottineau LRT line, I extend the line north, but with a different routing so as to serve Osseo. This routing is reflected in the fantasy Osseo Spur of the Bottineau LRT line, where some trains coming north from downtown would continue along the spur to the Target North campus.
This spur continues following the BNSF rail tracks north of 77th Ave N, passing underneath US 169 and bridging over 85th Ave N. At Osseo, the line follows a long curving bridge over Jefferson Hwy, 89th Ave N, and CSAH 81, returning to grade in the middle of Osseo's 1st Ave NW, just south of 3rd St NW. The line follows 1st Ave NW through Osseo, then turns northeast north of 93rd Ave N, crossing Jefferson Hwy again (at-grade this time) just north of Fair Way N.
East of Jefferson Hwy, the line heads eastward through currently undeveloped land, then begins a long elevated section that crosses US 169 just south of MN 610, then turns north and crosses MN 610 just east of US 169. Then line then turns northeast again, crossing the existing W Broadway/Winnetka Ave N intersection, then briefly turns east before ending on the north side of 97th Ave N, in the middle of the proposed Target North campus.
Stations along the Osseo Spur would be provided at the following:
85th Ave N
Downtown Osseo (SW corner of CSAH 81/Jefferson Hwy/Central Ave intersection)
North Osseo (east side of Jefferson Hwy, north of Fair Way N)
Target North (north side of West Broadway/Oak Grove Pkwy intersection)
The following map shows the routing of my fantasy Bottineau LRT line: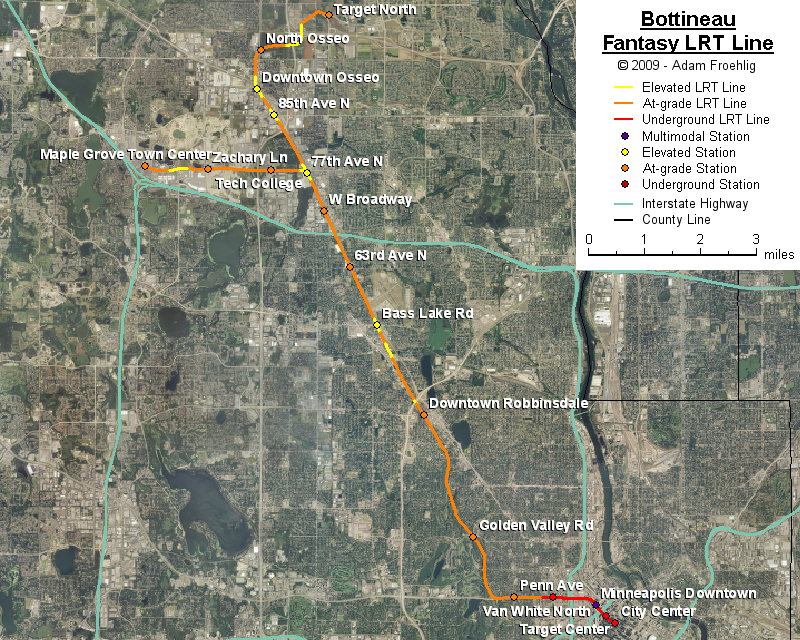 An earlier version of this map, using my original alignment to Target North and with the Robbinsdale and 63rd Ave N stations elevated, is here.
Back to my fantasy Twin Cities Light Rail Transit
Back to Twin Cities fantasy transit system
Go to my suggested freeway/expressway changes.
Go to my ideas for improving/upgrading Twin Cities area interchanges.
Return to Twin Cites Highways
---

Page last modified 31 October, 2009