Hiawatha Line refinement (fantasy transit)
The existing Hiawatha Line was built between 2001 and 2004, and gets its name for the Minneapolis street that it parallels for about half the line's length. The Hiawatha Line provides a direct connection from downtown Minneapolis to the Minneapolis St. Paul Int'l Airport, and beyond to the Mall of America.
Outside of downtown, I would leave the existing Hiawatha line more or less intact along its existing alignment, but would introduce a significant change to the line. This idea would in effect create a Hiawatha LRT bypass between Franklin Ave and the airport. This, combined with my idea for bypass tracks in the downtown Minneapolis tunnel, would allow for non-stop LRT service between downtown and the Lindbergh Terminal. A trip between the Lindbergh Terminal and the proposed Northstar/Twins Stadium station along this "Hiawatha Express" line would take only 10 minutes, which compares very favorably with the 27 minutes that a trip along the existing (plus under-construction extension to the Northstar station) line. Such express service would be in operation mainly during rush hours, being geared primarily to commuters and business travelers.
Besides the "Hiawatha Express", listed below are additional changes I would incur on the existing Hiawatha line:
Express bypass tracks would be provided at Cedar-Riverside and Franklin Ave (to facilitate the "Hiawatha Express").
Extend the existing overpass over Lake St and Hiawatha Ave northward to bridge over 26th St.
An LRT overpass similar to what exists at Lake St would also be added at 46th St.
The south end of the existing LRT line near Mall of America would be elevated starting just west of 28th Ave, bridging over 24th Ave, and then ending at a new transit station at the Mall of America's south entrance (to facilitate extension along the Cedar line).
The following map shows both the Hiawatha and Hiawatha Express fantasy LRT lines: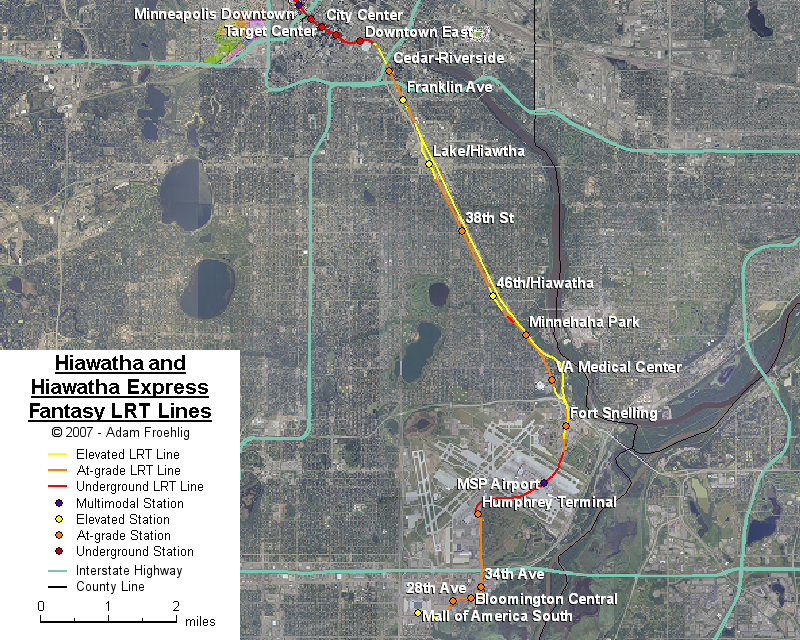 The following map shows JUST the fantasy Hiawatha Express line: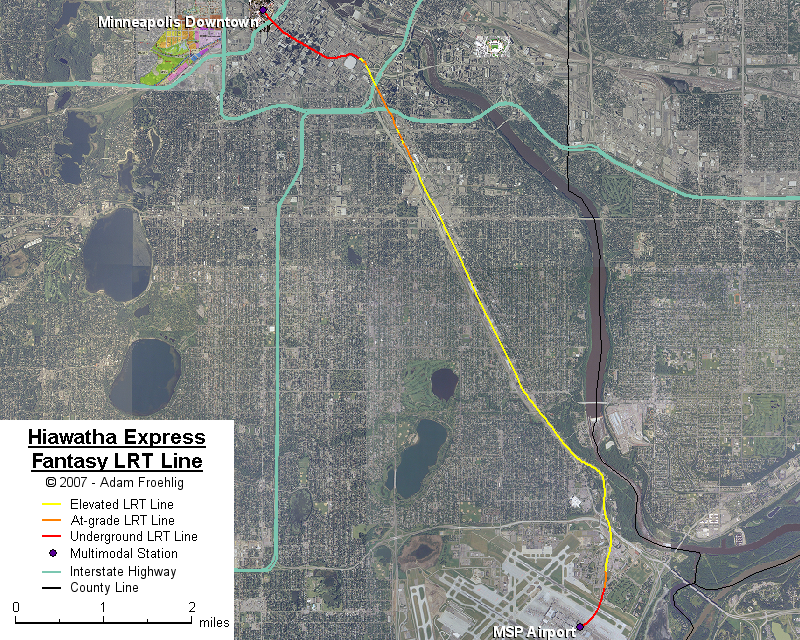 Back to my fantasy Twin Cities Light Rail Transit
Back to Twin Cities fantasy transit system
Go to my suggested freeway/expressway changes.
Go to my ideas for improving/upgrading Twin Cities area interchanges.
Return to Twin Cites Highways
---

Page last modified 17 October, 2009