Roseville Line (fantasy transit)
This fantasy line follows a corridor that has been studied a few times over the past 20 years. The ca. 1990 Ramsey County studies called it the "East West Crosstown", and was intended as an east-west line crossing through northern Ramsey County and connecting to downtown Minneapolis. More recent studies have called it the "Northeast Diagonal", as the corridor heads northeastward from downtown Minneapolis. Although potential ridership is generally low, the corridor is being studied for "smart growth" principles that might eventually increase the transit base. I have resurrected the line here as the Roseville Line, as the line would pass mostly through Roseville as it travels from downtown Minneapolis to White Bear Lake.
The line begins following the Northtown line out of downtown Minneapolis, splitting off at 7th St NE (beyond the University Ave station). It passes underneath Central Ave, briefly heads eastward through BNSF railroad property, over a BNSF mainline, then cuts through a gap between Hennepin Ave and Winter St NE which was originally going to become part of the cancelled I-335. It crosses over I-35W just west of Johnson St NE, then cuts east over both Johnson St NE and another BNSF rail mainline, then northeast across Broadway St NE to an abandoned rail line paralleling New Brighton Blvd.
It then follows this abandoned rail line to the Roseville city line, near where it becomes part of a little-used corridor of the Minnesota Commercial Railroad. This line generally follows the south side of County Road C through Roseville, eventually branching northeast near Owasso Lake and through Vadnais Heights towards White Bear Lake. Additional grade separations (beyond what already exists along the corridor) would be provided at Stinson Blvd, the Minnesota Commercial Railroad tracks west of I-35W, at Snelling Ave (through construction of a Snelling/County Road C interchange) and Lexington Ave. The line ends at the White Bear Lake station.
Stations would be provided at the following:
Buchanon St NE
Stinson Blvd (west side)
Cleveland Ave (west side)
Snelling Ave (east side, with connection to the Snelling streetcar line)
Lexington Ave (west side)
Rice St (east side)
Vadnais Heights (south side of County Road E)
White Bear Lake (north side of 2nd St, with connection to the White Bear line)
The following map shows the routing of my fantasy Roseville LRT line: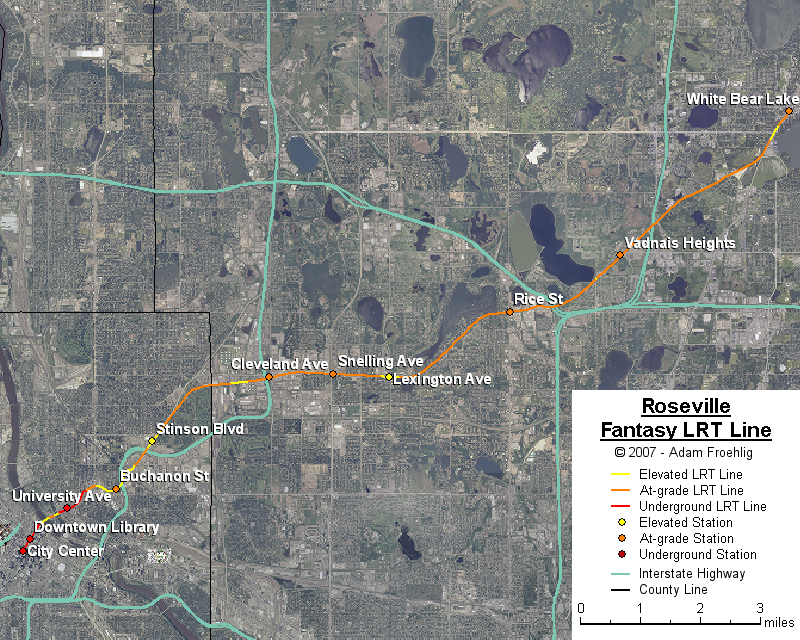 Back to my fantasy Twin Cities Light Rail Transit
Back to Twin Cities fantasy transit system
Go to my suggested freeway/expressway changes.
Go to my ideas for improving/upgrading Twin Cities area interchanges.
Return to Twin Cites Highways
---

Page last modified 23 December, 2007