MS 15 Endings
Mississippi 15 currently exists in two segments. The Southern segment is routed from Biloxi North to MS 26 East of Wiggins. The Northern segment exists from Beaumont Northward to the state line with Tennessee North of Walnut.
Southern Segment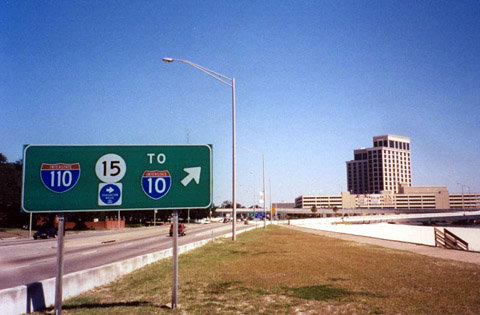 Eastbound on U.S. 90 at the joint Southern beginning of Interstate 110 and Mississippi 15 (which duplexes for all 4 miles of I-110).
Photo taken by Alex Nitzman 9/00.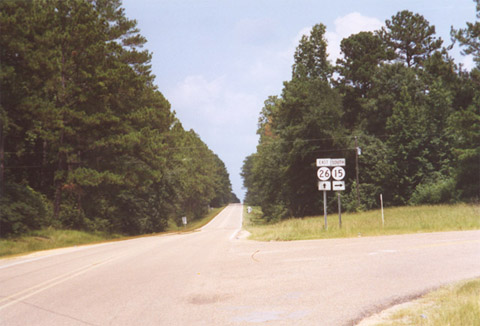 The Northern end of this segment of Mississippi 15 is located in the Desoto National Forest at the junction with Mississippi 26.
Photo taken by Alex Nitzman 8/01.
---
Northern Segment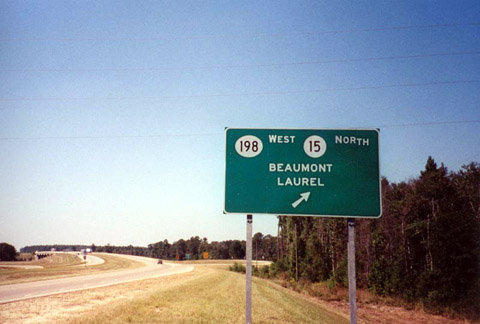 Westbound U.S. 98 at the interchange with Mississippi 15/198. This marks the Northern beginning of MS 15 (and Western beginning of the Beaumont segment of MS 198).
Photo taken by Alex Nitzman 10/00.
Within the interchange of U.S. 98 and Mississippi 15/198. This scene shows the ramp from U.S. 98 to northbound Mississippi 15.
Photo taken by Ed Wilson (02/02).
Back to AL Highway Endings
Back to Highway Pictures
Back to Main Page
Back to Highways Page
E-mail Froggie