MS 57 Endings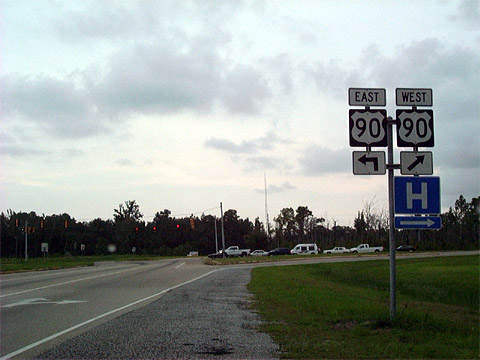 U.S. 90 signage on Southbound Mississippi 57 at the terminus.
Photo taken by Jana Clark/Alex Nitzman 8/13/01.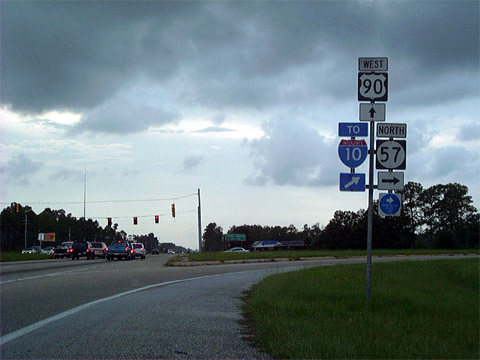 Westbound on U.S. 90 at Mississippi 57. The corporate limit for Ocean Springs is just up ahead.
Photo taken by Alex Nitzman 8/13/01.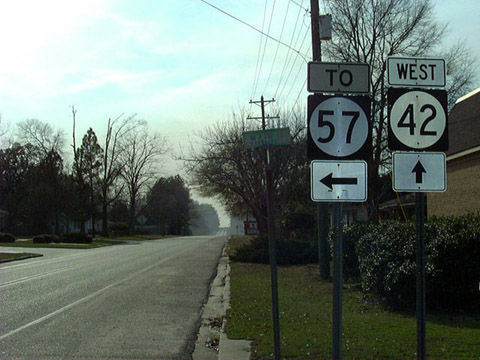 Westbound on MS 42 at the roadway for MS 57. The intersection to which this signage refers, is not actually a part of MS 57. MS 57 begins officially three blocks to the south. A MS 57 State Line bypass is planned, and will bring the northern terminus to U.S. 45 eventually. The project will also involve a realignment of MS 42, catching U.S. 45 right at the state line (via a new-alignment east-west road just barely on the Wayne County side of the county line).
Photo taken by Alex Nitzman.
First MS 57 shield on southbound, located three blocks south of the above shield assembly on MS 42.
Photo also by Alex Nitzman.
Back to MS Highway Endings
Back to Highway Pictures
Back to Main Page
Back to Highways Page
E-mail Froggie