Midtown Line (fantasy transit)
This fantasy line is my idea for a full LRT line instead of the proposed streetcar along the 29th St corridor in south Minneapolis, providing an alternative connection between the Southwest and Hiawatha lines as well as service along the busy Lake St corridor. An extension of this line eastward to the University (Central) Line at Midway Center provides a connection for Uptown/Lake St travelers to get to downtown St. Paul and vice versa.
The line begins at the Hopkins station on the Southwest line and interlines with that line through West Lake. East of West Lake, it follows the old Milwaukee Road rail corridor along 29th St to near 21st Ave, where it drops into a tunnel along the west side of Hiawatha Ave and under the Lake/Hiawatha LRT station. The line then turns east under Lake St, coming back to grade near 29th Ave. The line follows Lake St and Marshall Ave at-grade, crossing the Mississippi River on the existing Lake Street Bridge. At Fairview Ave, it turns north, using Fairview's routing underneath I-94. It then turns east at University Ave and briefly interlines with the University line before ending at the Midway Center station.
Stations would be provided at the following:
Hopkins (first connection to the Southwest line)

Blake Rd (west side)

Louisiana Ave (east side)

Wooddale Ave (east side)

Beltline Blvd (east side)

West Lake (last connection to the Southwest line)

Dean Pkwy

Uptown Center (at Hennepin Ave, with connection to the Hennepin line)

Lyn-Lake (at Lyndale Ave)

Lake/Nicollet (west side of Nicollet Ave, with connection to the Nicollet streetcar line)

Midtown (at I-35W, with connection to the Lakeville line)

4th Ave (east side)

Midtown Exchange (east side of Chicago Ave, with connection to the Chicago streetcar line)

Bloomington Ave

Lake/Hiawatha (with connection to the Hiawatha line)

East Lake Center (west side of 27th Ave)

36th Ave (west side)

East River (west side of Otis Ave)

Cleveland/Marshall (east side of Cleveland Ave)

Fairview South (Fairview Ave, south of University Ave)

Midway Center (with connection to the University line and the Snelling streetcar line)
The following map shows the routing of my fantasy Midtown LRT line: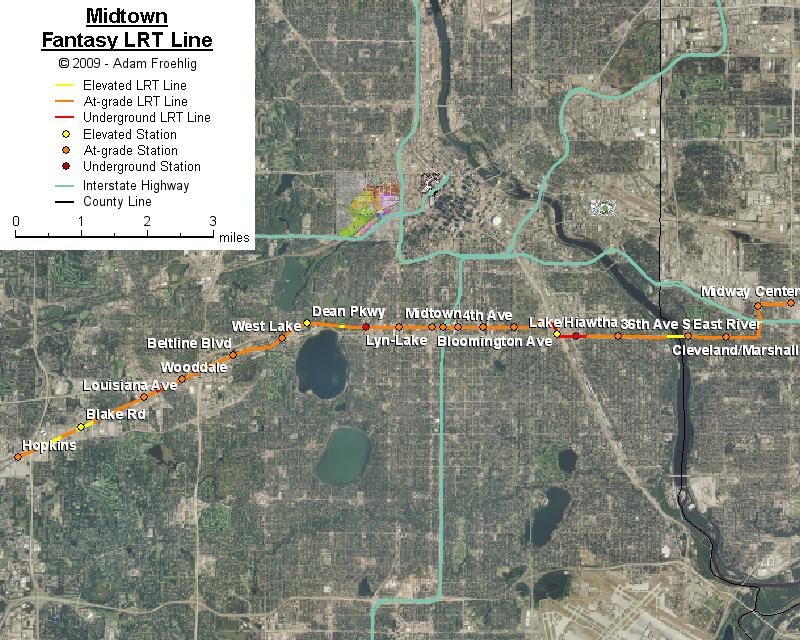 An earlier version of this map, using my original alignment east of Hiawatha and with the western terminus at West Lake, is here.
Back to my fantasy Twin Cities Light Rail Transit
Back to Twin Cities fantasy transit system
Go to my suggested freeway/expressway changes.
Go to my ideas for improving/upgrading Twin Cities area interchanges.
Return to Twin Cites Highways
---

Page last modified 29 October, 2009