Downtown St Paul (fantasy transit)
Unlike my fantasy system for downtown Minneapolis, most of my fantasy downtown St. Paul system would be at-grade. The primary reason for this is topography, with downtown basically sitting right on a river bluff. As with downtown Minneapolis, I propose two lines through downtown St. Paul. The University line comes in off University Ave and then heads south through downtown and across the Mississippi River, continuing as the Inver Grove line. The Riverview line comes in from the southwest and departs to the east as the White Bear and Woodbury lines.
Under this fantasy system, Cedar St between 5th St and Kellogg Blvd and also 4th St between Wabasha and Minnesota would both be closed to vehicle traffic to accommodate the "Capital City" transit station. I think this can be done without too negatively affecting traffic in downtown St. Paul.
From the west, the University line begins in the median of University Ave and goes underground west of Marion St. Near Capitol Blvd, the line departs University Ave to the south, passing just east of the State Capitol before coming back to grade along Cedar St just north of 12th St. The line follows Cedar St through downtown, as does the real-life-proposal. At 4th St, the line starts going elevated, bridging over Kellogg Blvd and crossing the Mississippi on a new bridge that ties into the east side of Wabasha St south of the river and onto the Inver Grove line. Stations would be provided at Capitol East (along Cedar St at Constitution Ave), Capitol Square (north of 10th St), World Trade Center (south of New 7th St), and Capital City (at 4th St, with connection to the Riverview/Woodbury and White Bear LRT lines).
From the southwest, the Riverview line follows the W 7th St median, then goes underground near Walnut St, passing underneath the Xcel Energy Center and Rivercentre, before returning to grade on 4th St at St. Peter St. The line follows 4th St through downtown, then along Prince St before passing underneath the Lafayette Bridge and then on new structure over the valley and just north of the 3rd St bridge. The line is then elevated over the 3rd St/Mounds Blvd intersection before coming back to grade along the north side of I-94 and continuing as the Woodbury Line. Stations would be provided at Xcel/Rivercentre (with connection to the Marion/Rice streetcar line), Capital City (at Cedar St, with connection to the University/Inver Grove LRT lines), Union Depot (with connection to several Intercity rail lines and the Red Rock and Hudson commuter lines), and Mounds Blvd (at 3rd St).
The following map shows the fantasy LRT routing through downtown St. Paul: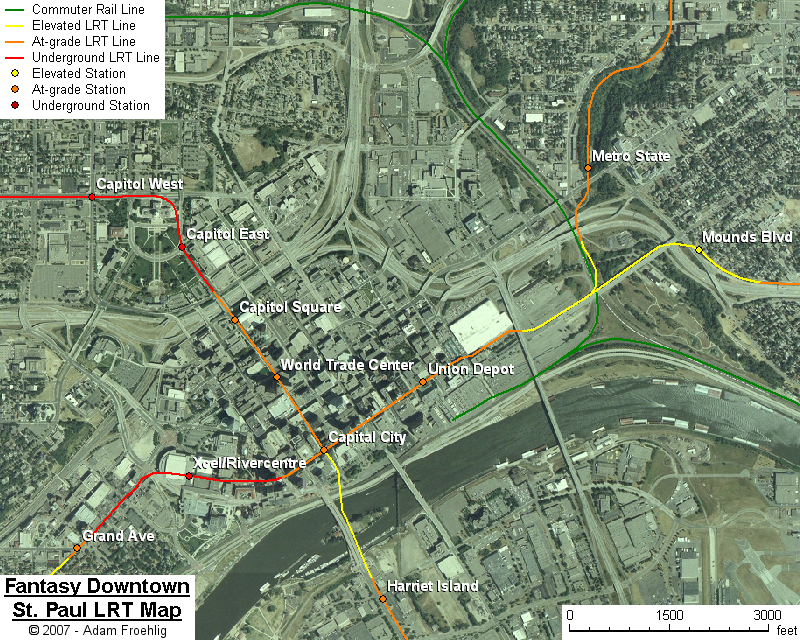 Back to my fantasy Twin Cities Light Rail Transit
Back to Twin Cities fantasy transit system
Go to my suggested freeway/expressway changes.
Go to my ideas for improving/upgrading Twin Cities area interchanges.
Return to Twin Cites Highways
---

Page last modified 24 October, 2009